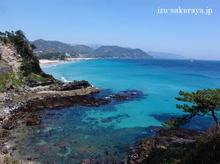 I took this picture at the parking lot which is called "Miharashi-Hiroba" in Shirahama.
Today it was very warm here in Shimoda.
And when I went to the sea it was low tide and the water was very clear, so I decided to do "Snorkeling" there.
I came back home and brought my wet suit, and then I went back to the sea….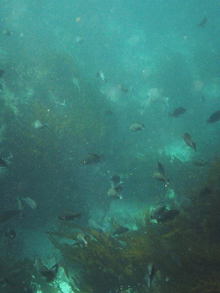 In this season we don't have many kinds of fishes in the water, but I found out the fishes near the rock.
As I took this picture by my water proof cell phone the picture is not clear.
But it was really fun to swim with the fishes.
The best season for snorkeling in Shimoda is autumn, September and October.
Because the Japan current called "Kuroshio" brings the tropical fishes from the southern ocean near the Philippine islands.
These fishes are blue, yellow and tropical colors.