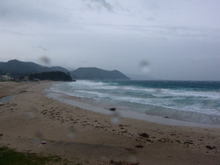 Last night I was checking the weather forcast as usual and it said that it would be rainy and windy tomorrow.
Actually we had a strong wind with a rain in Shirahama.
And the weather report said us the strong wind and heavy rain today.
When I took this picture I could not hold my camera because of wind.
.
.