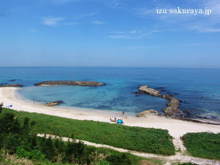 Today it was sunny and we didn't have a wind.
Yes, it was a good condition for swimming.
This beach is "Shirahama Chuou Beach" next to "Shirahama Ohama Beach".
This is a good snorkeling point and good beach for children, because they don't have big waves there inside two breakwaters.
It takes about 20 or 30 minutes by walking on the beach from Shirahama Ohama Beach.