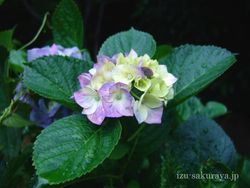 This is a hydrangea in our garden.
First of all they have white blossoms, but the color is changing to purple and blue day by day.
Now they have 30 % blooming and we will be able to see the full blooming on around June 20th.
But I love this young color because I feel that they have young spirit and power.
Anyway the rain suits them very well in this season.
By the way we had a heavy rain here in Shimoda this morning…..