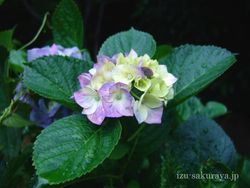 This is a hydrangea in our garden.
First of all they have white blossoms, but the color is changing to purple and blue day by day.
Now they have 30 % blooming and we will be able to see the full blooming on around June 20th.
But I love this young color because I feel that they have young spirit and power.
Anyway the rain suits them very well in this season.
By the way we had a heavy rain here in Shimoda this morning…..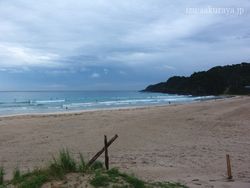 This morning I took my daughter to the train station at 6:00 AM, because she had a competition of ping pong in Numazu city.
But she called me at around 8:30 AM and told me,
"The competition was cancelled by the heavy rain. So I'm going back to Shimoda now."
When they arrived at Atami station the Tokaido line had already stopped by heavy rain, and they had to go back to Shimoda.
I heard that the heavy rain warning issued after around 8:00 AM, but I saw there were a lot of surfers in the water under the rain.
* I took this 2nd photo at around 4:00 PM in Shirahama.