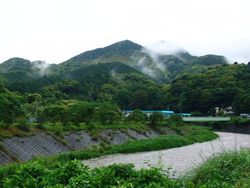 Today it was rainy this morning I took my elder daughter to the high school by car.
I usually take the road through Shimoda down town and the seaside to go back home, but I took the different way through the mountain.
When I was driving I found out the clouds between mountains.
It seemed as if the mountain was breathing deeply and slowly….