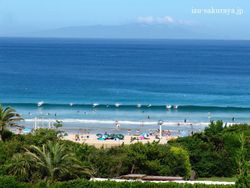 Today it was Sunday which is the middle day of 3 holidays on weekend.
So there were a lot of people on the nearest beach Shirahama.
There are 9 beaches in Shimoda city, but some of them were closed due to typhoon getting closer to Japan.
Shirahama Beach was opened until 13:00, but it was closed after 14:00.
It will be closed again tomorrow.
You can see the other pictures here.