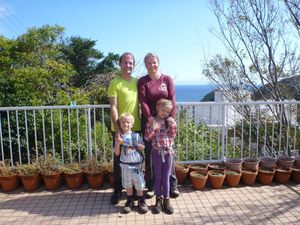 They came to Japan from Switzerland for the 1st time, and came to Shimoda as the last place of 3 weeks travel in Japan.
During their stay we had strong north wind, so they went to Shimoda city,
Shimoda Park, Tatado beach and Nesugata Yama cable car.
As they didn't have strong wind on the last day they went to the beach
for swimming before check out.
We had a great time with this lovely family.
Vielen Dank für Ihren Aufenthalt!