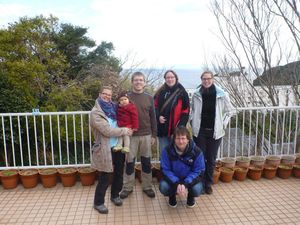 They
are from Germany and some of them have lived in Tokyo since last July.
It was the 2nd time for them to come to Shimoda, and they stayed at
Sakuraya for the 1st time as their friends who stayed at Sakuraya 2
years ago recommended them our Pension.
When they checked out they said,
"We will come back here with my sister in law this summer."
We were very glad to hear that!
Thank you
for staying with us and we are looking forward to meeting you in summer.