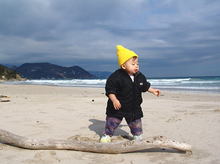 It was cloudy today in Shirahama, but my son "Yuuki" and I went to the beach to take a walk.
Yuuki loves the sea and the water. When I took him near the sea, he suddenly started to walk toward the water. I took him back but he repeated it again and again.
After that he found the cap of juice bottle and started to play with it lying on the sand. Lovely baby, Yuuki!
"Hello, everybody! My mother bought me this yellow cap. It looks good on me, right?!
"By the way my father posted the photos of Yunessun where we went 2 days ago into Sakuraya's Webpage. Please check it out. You can see the photos of my sister and me!"