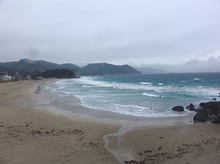 Today it was very cold and rainny in Shirahama.
When I was watching TV news in this morning a lot of students were going into the gate of University to take the examination of Nation University through the falling snow.
In according to this TV news, the English Listenning Test started from this year and all
of students who want to get into the National University have to take it.
I think that it is good for them but really hard for them and their parents.