We got a letter from our guests who stayed at Sakuraya in last May.
They came to Japan from Singapore for the 1st time, arrived at Kansai Airport and came to Shimoda after Kyoto, Takayama, Mt. Fuji, Hakone and Tokyo.
As they don't speak Japanese well it was a little difficult to travel in the country side of Japan…..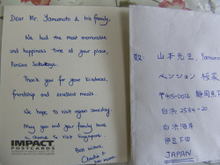 However they could have a good time in Shimoda actually.
We appreciated that you sent us these photographs with a letter.
We are looking forward to meeting you someday again.
Thank you for staying at Sakuraya.