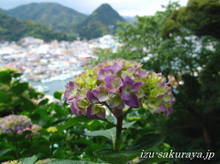 When I went to Shimoda for shopping with my son, I went to "Shimoda Park" to check the blooming of Hydrangea, "Ajisai" in Japanese.
The flowers has just started to bloom, but we could see some flowers there.
They says that there are 3 million flowers of Hydragea in this park, and we can walk in a lot of flowers with a view of Shimoda town and harbor at the peak of blooming season.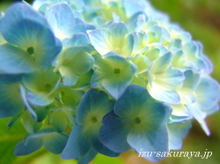 I took this picture too today in this park.
The flower festival take place for 30 days in June, but I prefer the beginning of season.
Because I love the flowers which are getting color like this picture.
Please get the informations of this festival in the following webpage.