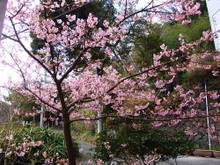 Today it was almost cloudy but sometimes we had sunshine.
It was not cold but we had north-east wind, so we didn't feel to go to the beach.
By the way Kawazu Sakura (Cherry blossom) in our garden has fully bloomed at last.
We are very happy looking this tree in spite of cloudy today.
Yes, we love Sakura very much. …….