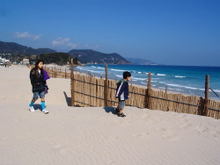 "They don't have good wave today."
This morning our guest who is surfer went to the beach to check the wave and said so.
It was sunny and very warm today I went to the beach with my children after finished to clean up the guest room.
My purpose was snorkeling.
I have been thinking I would like to dive in winter, but it had been very cold in these days and I couldn't do it…….