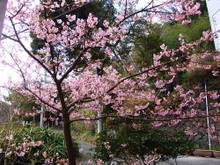 Today it was almost cloudy but sometimes we had sunshine.
It was not cold but we had north-east wind, so we didn't feel to go to the beach.
By the way Kawazu Sakura (Cherry blossom) in our garden has fully bloomed at last.
We are very happy looking this tree in spite of cloudy today.
Yes, we love Sakura very much. …….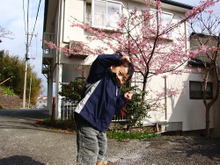 This Sakura is in our garden next to the front door, we can see these blossoms when we come back home and it makes us happy every time.
This weekend Kawazu Sakura Festival will take place in Minami Izu town and Kawazu town.
However they say that most of their trees have just started to bloom.
On the other hand our tree started to bloom at the beginning of January, so it has been blooming for 1 month.
Kawazu Sakura is very famous for its long time blooming.
<Links>
Kawazu Sakura Festival