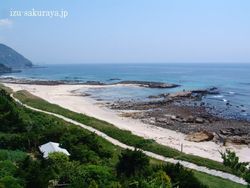 Today we had a lowe tide here in Shimoda.
In this season, when we have a low tide we go to the beach to get crabs.
This is Shirahama Chuo Beach located next to Shirahama Ohama Beach.
The rocks are usually in the water, but they appeared due to the low tide.
We can get crabs there! …….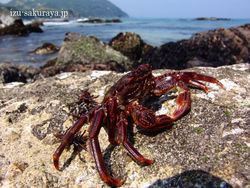 Look at this!
This crab is called "Shojin-gani" in Japanese.
They usually live in the water around the rocks and we can get them at the lowest tide.
The local people in Izu peninsula have been getting this crab since long time ago, and I was teached by them how to get it 10 years ago.