Have you ever seen this?
This is called "Biwa" in Japanese.
It is called "Loquat" in English, right?
Today, when I got into the Japanese style room to clean up I found out this tree has a lot of yellow fruits like this.
This tree is 24 years old or more and is getting bigger over the roof of two-story house……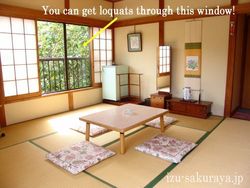 In this season we provide this Japanese room for our customers if they prefer this style, because they can get and eat loquats anytime through the window.
But we don't have many customers in June.
If you came and stayed at Sakuraya you could eat it as a desert.