They came from Seattle and stayed with us for 3 nights.
During their stay it had been sunny and very hot, so they could have good days here in Shimoda.
On 3rd day they rented a car and drove on Izu peninsula.
How did you like it?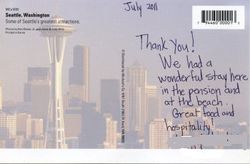 After Shimoda they were going to Takayama and Kyoto.
Thank you for staying at Pension Sakuraya.
P.S
When they checked-out they gave us this postcard of Seattle with a message.
We are very glad to get it from you.