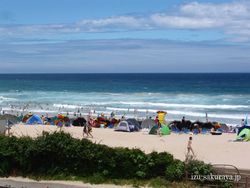 This time the typhoon stayed for long time near Japan, and we had had a very strong wind and big waves here in Shimoda.
But we could take blue sky back as typhoon went up to the northern pacific ocean.
We still had big waves at around noon there were a lot of people on the beach.
The weather forecast says it will be sunny and hot tomorrow.
Click here to see the other photos which I took this afternoon.