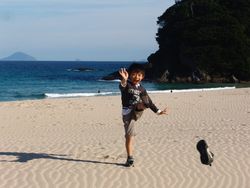 Today it was sunny after 3 days, but we had a cold horth wind.
I watched TV news this evening and they said they had first snow of this season in Hokkaido today.
That7s why it was a little cold here in Shimoda.
But the weather forecast says it will be sunny this weekend.
By the way I went to the nearest beach called Shirahama Beach with my son after school.
There were some surfers in the water but nobody was swimming today.
Click here to see the other pictures which I took today.