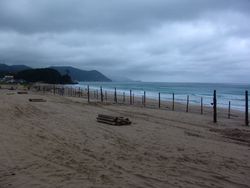 In this season we set up the fences on the beach.
Because we have strong north east wind between autumn and spring, and because we have to protect the sand on the beach from this wind.
Today we had a work to set up the fences from 7:00 AM.
In this early morning we had a heavy rain and stopped raining before work, but it began to rain again after we started to work.
However we finished to do it in the rain……