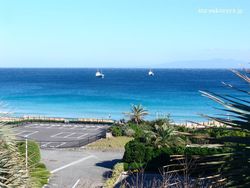 Today we had strong west wind here in Shimoda.
When I went shopping I took this picture on the way to the beach.
We could see clear bule sea and Izu Oshima Island over the ocean.
From this season we sometimes have cold west wind, and we can see the boats which come to this sea to protect them from the strong wind.
Becuase they have more than 30 or 40 m/s wind at around Irozaki cape.
Too dangerous  for them it is!