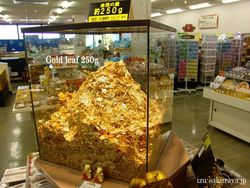 On last Friday I went to Toi town in Izu city, on the other side of Izu peninsula, with my wife and her friends.
Long time ago there used be a lot of gold mine in this peninsula, but Toi gold mine was the largest one.
We can get into the mine by walking and there are museum and suvenir shops.
Here is a web page of this gold mine museum, which I have just made tonight.
You can see all pictures on the web page on facebook album here.
Pension Sakuraya in Shimoda, Japan