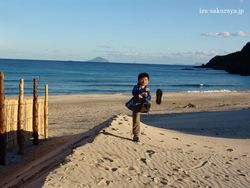 After school I went to the beach with my son as usual.
Yesterday we had very strong west wind here in Shimoda.
This morning we still had a little wind, but the wind was stopped after that and the sky was very clear.
We could see the Izu Seven Islands over the ocean.
My son was playing shooting his shoe!