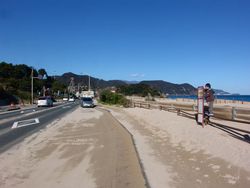 On last Thursday and Friday we had strong wind and heavy rain like storm here in Shimoda.
But today it was beautiful and we could see the blue sky and sea after long time.
When I went to Shimoda dowmtown with my son I took some pictures on the beach.
The strong wind brought the sand from the beach to the road like this.
Click here to see the pictures which I took today.
Pension Sakuraya in Shimoda, Japan