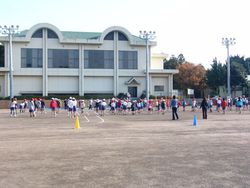 Today it was sunny again in Shimoda.
We had a little bit wind here in Shirahama but it was warm.
By the way, we had Long distance running competition at Shirahama primary school.
This marathon takes place on every December and a lot of parents and local peole come to school to support and cheer them.
This competition started at 9:20 AM…..