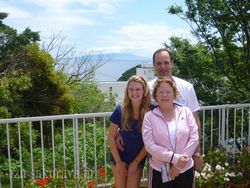 They came to Shimoda from Tokyo for the 1st time.
I have been worrying about the weather, but it became sunny like this photo.
On the 1st day they went to the beach for walking, and went to Shimoda to see the hydrengea festival before leaving Shimoda on the 2nd day.
We look forward to meeting you someday again.
Thank you for staying with us.