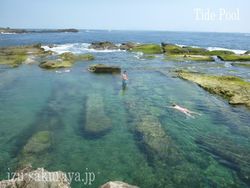 As it was sunny here in Shimoda today and we had some free time before check-in time I went to Ebisujima island for snorkeling.
It takes about 15 minutes by car and there is a bridge to get to this island.
This is one of good points for snorkeling in Shimoda, and there is a big tide pool like this.
This season it is a little early for snorkeling, but the water was very clear today and we could find out some fishes there.
After August the water temperature will be getting higher and it will be a good season for snorkeling in Izu peninsula.
Click here to see the other photos on our Facebook.
Pension Sakuraya: Kids friendly Pension in Shimoda, Japan