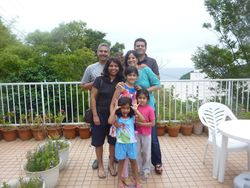 They are from India and have lived in Tokyo for several years.
They came to Shirahama and stayed at Sakuraya for the 1st time.
They went to the nearest beach "Shirahama" on the 1st day and went to Yumigahama Beach in Minami Izu town on the 2nd day.
We are very sorry, but it had been not sunny on these 2 days.
Please come to Shimoda with the sun again.
Thank you for staying with us.