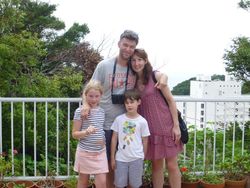 They came from Australia and stayed at Sakuraya for 2 nights.
We are very sorry, but it had been almost cloudy during their stay.
But they went to the beach for swimming and exploring and Shimoda downtown for dinner.
And they saw the Fireworks Festival on the beach on the 2nd day.
We look forward to meeting you somdeday again.
Thank you very much for staying with us.