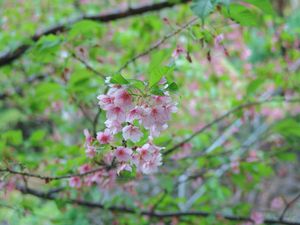 We have very cold rain here in Shimoda this
morning.
The TV news said that they had first blooming of Sakura in
Fukuoka in Kyushu island, a southern part of Japan yesterday.
There are a
lot of kinds of Sakura in Japan, and the most famous and popular 'Someiyoshino' will start blooming from now.
I took this picture in our garden this
morning.
This kind of Sakura called 'Kawazu Sakura' is now going to
finish blooming, and this tree has already had fresh green leaves.