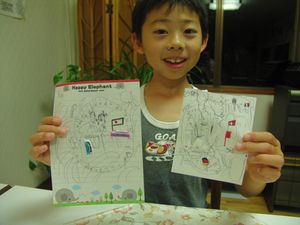 Today we got an envelope via airmail.

It was sent from our customers who came from Switzerland and stayed at
Sakuraya for 8 nights in last April.
We found out some drawings which
were given to my son from the children and a postcard of their hometown.

My son remembers the children because he played UNO with them many
times, and of course he is excited very much to get these presents.

When I took these photos my son was just going
to bed, so he looks a little sleepy.
But I'm sure that these presents
made him very happy!!!
Thank you very much!!