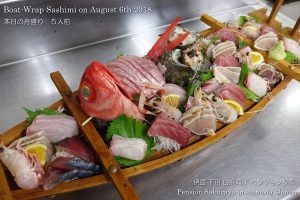 It's raining now at 23:30 in Shirahama.
The typhoon is approaching Kanto area in Japan, but the weather forecast says it will be sunny during the period of the typhoon is passing near Izu peninsula……
This is boat-wrap sashimi which we served tonight.
The fish shop said there was no fish at the fish market in Shimoda again.
In addition, the typhoon is approaching Japan and fishermen will not be able to fish in next several days…..