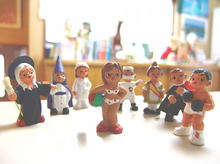 These dolls are witch, doctor, nurse, boxer, father and girl with bikini in the center.
These dolls are made of soil.
The height of these dolls are about 5 centimeters. If you drop it on the concret, it would be broken.
Do you know where these dolls are from?
The answer is "Spain"!!
When I was student of university, I have been to 9 countries in Europe and Morocco alone as a Backpacker. Then I went to wienna in Austria to see Opera and Ballet at the National Opera Theatre. It was really excited for me. That's why I began to practice the classical ballet. And after my graduation of University I could started to work as a danser.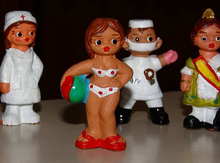 By the way, when I went to Granada in Spain to see the palace of Alhambra, I found a small souvenir shop in the town and these very cute dolls.
I thought that it was very good souvenir to bring in my backpack for my parents and friends.
Several years later my uncle (He was already a host of this Pension in those days.) told me that he wanted these dolls.
So I asked my friend who was going to travel to Spain to buy these dolls.
Now you can see many kinds of dolls at the entrace of our Pension.
Why don't you come to see?