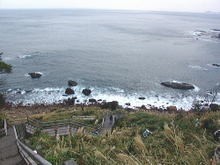 Today we, the members of Shirahama Tourist association cleaned up the field of Aloe at Itado area in Shirahama.
Because we have "Aloe Festival " in this area from December 9th.
To clean up this field we got into the Aloe trees and cut the weeds.
It was cloudy today but it became a little hot for us cleaning up this area…..
We can see the seven islands, Shirahama beach and Suzaki peninsula from this area.
The place where I took this picture is 100 meters from "Ogasaki Wing" which is the view point at the entrance of Shimoda city.
There is a long and steep steps there, and we can get to seaside.
When you come to Shimoda by car we recommend you to go this place.
You must be able to get an excellent view of the ocean, especially, when the air is clear.