Today, as my wife had to wok her job my son, Yuuki and I went to the amusement park "Izu Bio Park" in Inatori town.
On the way to Inatori I took this picture as usual.
This is Shirahama Chuou Beach near Shimoda Prince Hotel.
I could see Izu Oshima island clearly today.
From Shirahama it takes about 25 mintues by car to Bio Park….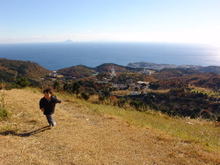 Before going to Bio Park we went to the top of Mt. Asama behind Bio Park.
From here we can get very beautiful scenery with Izu seven islands, Izu Kogen, Amagi mountains, Shirahama beach and Suzaki peninsula.
Do you see a Ferris wheel(?) overthere?
We always see this from Shirahama beach.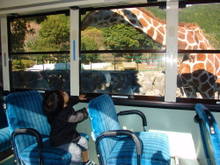 After getting into Bio Park we got on a bus which goes around Animal area in this park.
This bus has leaves which giraffe likes on the lef side, so the giraffes come to this bus to get it.
It was a first time for my son he was very surprised at this animal and had been watching it.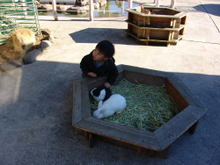 Actually after getting off the bus there is a elephant zone, but there is no elephant today.
Was he in a holiday today?
In this park there is also an area where we can touch the small animals, rabits, ducks and etc.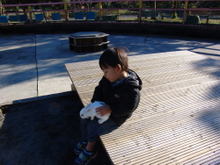 When we were touching the animals a staff took a baby rabit for my son.
For the first time my son hesitated but he could hold it at last.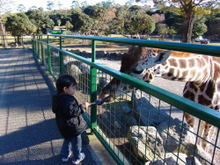 After that we moved to the area where we can give a food giraffes.
As the giraffe has a long tongue my son couldn't give a carrot for the first time.
But I showed him how to give it some times he could do it!!
Yes, this was a today's main purpose to come here.
He could get many kinds of experiences here today.
Actually there are other many animals and many kinds of amusements.
But we come back home today after that.
<Link> Izu Bio Park official website (Japanese only)