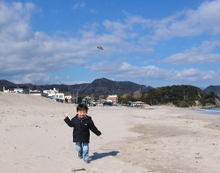 Today my son and I went to the beach to fly a kite.
Actually we went to Shimoda town to buy a kite yesterday and had already gone to the beach to do it, but we didn't have enough wind to fly it.
But we had good wind for it today.
So I decided to do it again…..