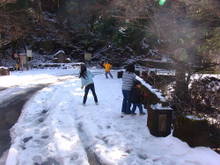 Don't you think we have a lot of snow this year?
Last week we had snow in Izu peninsula, but there was no snow in Shimoda.
So I was thinking to take my children to Amagi mountain play with snow, and I went there with my daughter, my son and my daughter's friend after I finished to clean the guest rooms…..