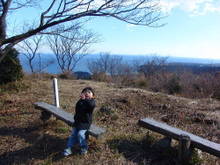 Yesterday my friend asked me,
"How is the blooming of Sakura on Mt. Takane? Because I have my own Sakura there."
As I was not able to answer him I decided to go this mountain to check Sakura blossoms with my son today. (Actually there are our three sakura trees there too!)
When we got off our car we started to walk.
This is a small place to see Izu seven island on the way to the top of mountain…..