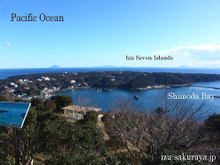 Today it was very beutiful day.
When I saw the ocean from our pension I could see Izu Oshima island clearly, so I desided to go to Mt. Nesugata-yama by Cable car with my wife and son.
It's only 3 minutes by calbe car to get to the top from the cable car station near Izukyu Shimoda station.
As I was thinking we could get very beutiful senery from the top of mountain like this picture……..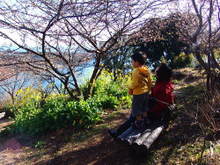 On top of the mountain there is a walking path and we can see many kinds of flowers and trees.
There were some chairs in the park we had a break looking the cherry blossom.
They have some kinds of cherry in the park and one of them have already had full blossoms.
When we were there some travellers walked across this park and said,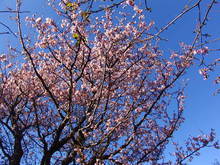 "We are very happy because we can see the beutiful ocean with seven islands, narcissus, rape blossoms and cherry blossoms all together."
If you would like to get an early spring I recommend you to go to this park.
By the way, do you know that we, Japanese call cable car "Ropeway" in Japanese?
Sorry, I don't know why………
<Link>
Information for Shimoda Cable Car