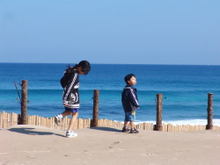 It was rainy early in this morning but the weather has been changed.
Yes, we got a sunshine after one week here in Shirahama.
After my daughter finished a school I went to the beach with her and my son.
They were very happy on the beach……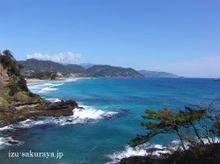 After that we moved to the good view point nearby in Shirahama by walking.
Today the air was clear and we were able to see Mt. Amagi over there.
We family have been here since 16 years ago, but we always feel happy with this blue sea in Shirahama.
I think this sea is the best one in this region.
It takes only 3 and half hours by car from Tokyo!