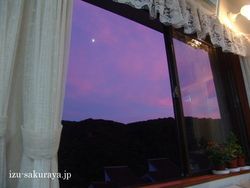 "Can you see this everyday in this season?"
When our customers finished the dinner asked me.
"Yes, we sometimes can see it, but not everyday." 
After I said so I went to my room to take my camera, but the color was changed when I came back to the dining room.
In Shimoda we sometimes can see the beautiful red sunset, but its color is different in this season.
Anyway, I show you the photo of Shirahama beach, which I took this afternoon…..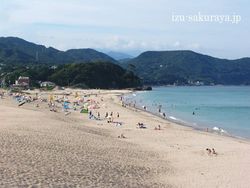 When I went to my son's friend home to pick him up I took this photo at around 4:30 pm.
"There were a lot of people on the beach today!" my wife said, but most of them had already gone when I went to the beach.
Today they didn't have big waves there, so it was very good condition for small children, but it was not good for surfers.
The weather forecast says it will be sunny in next week.
As we are very busy in summer we can't go to the beach for swimming, but it's a good news for us and our customers.