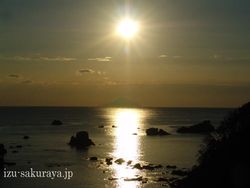 I took this photo at around 7:30 am at the different place from yesterday.
It was sunny this morning, and there was no big cloud in the sky.
That's why I was able to take a photo with shinning sun and there was a golden road on the sea.
Do you see the island under the sun?
That's called "Toshima" island.
It takes about 1 hour and 35 minutes by ship from Shimoda harbor.
Do you know what the circumference of that island is?
It is only 8 kilometers and only 300 people live there.
80 % of that island is covered with camellia trees and the amount of production of camellia oil is best in Japan.
There is no beach in that island, so the most popular sports are diving and fishing.
Would you like to go there?