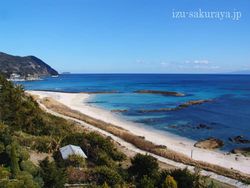 I went to hospital for my wife at around noon, and while she was there I went to the beach to take photos.
Today it was sunny again, so the sea was so beautiful. It looks like a tropical beach in Okinawa or southern island.
This beach is called "Shirahama Chuo Kaigan", it takes about 30 minutes by walking from Pension Sakuraya. Of course there is a parking lot for free except busy season.
I want to go there for snorkeling after this cold winter.