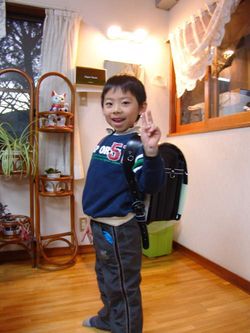 In Japan almost of every students go to primary ( grade ) school carrying this knapsack with back straps.
As he knew that he would go to the primary school on next April he wanted his own knapsack like this.
"When can I buy my knapsack?"
"We will buy it when we will go to Chigasaki city."
As we promised we bought this knapsack at the shop in Chigasaki.
Long time ago we had only 2 types, black one for boys and red one for girls, but they have many kinds of color of this knapsack in these days.
But we were able to make a dicision soon because my son wanted black one.
He looks very happy with his own brand-new knapsack now.
We call this "Randoseru" in Japanese, but how can we call this in English?
Maybe they don't have this bag in the foreign countries, right?