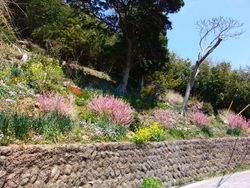 We got into April at last.
In our garden in front of Pension Sakuraya a lot of flowers started bloom.
We can see many kinds of color, pink, yellow, blue, orange and purple under the sunshine.
Yes, now we are in Spring in Japan!
This afternoon I went to the beach to take pictures after shopping.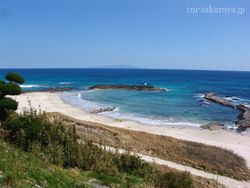 This is Shirahama Chuo Beach next to Shirahama Ohama Beach.
The waves were getting into the cove, and I could see the Izu Oshima Island over the ocean.
Normaly a lot of people come to Shimoda in this season, but there are not many visitors in not only Shimoda but also Izu peninsula after Earthquake, Tsunami and the accident of Nuclear power plant in Fukushima Pref.
But there is no problem here in Shimoda because Shimoda is located over 300 km from Fukushima Pref.