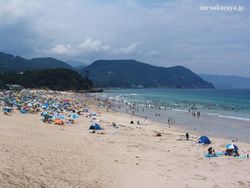 In these days the weather have been changing everyday.
It was cloudy here in Shirahama this morning, but it became sunny at around noon.
When I went to Shimoda for shopping I took pictures.
There were a lot of people on the nearest beach this weekend.
After that I went to the next beach "Sotoura Beach."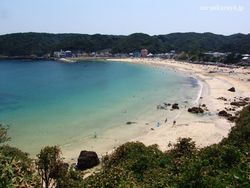 This beach doesn't have big waves, so a lot of families come to swim.
On the left side of this beach it is a rocky beach and there were some people who were snorkeling.
Around Shimoda there are a lot of good points for snorkeling.
The water temperature will be higher day after day, so it will be a good season for snorkeling.
Click here to see the other photos which I took today.