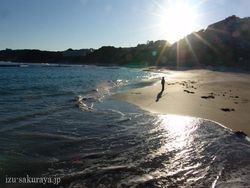 Yesterday the weather forecast said it would be colder, but it was not so cold today actually.
However we could see the Izu Oshima Island clearly from Sakuraya on the hill because the air, the sky and everything is getting into winter.
After school I went to pick up my son and went to the beach together.
This is "Shirahama Chuo Beach" next to "Shirahama Ohama Beach" which is the nearest one.
My son and I walked on the beach for a while. ( The small person in this picture is my son!)
Click here to see the pictures today.