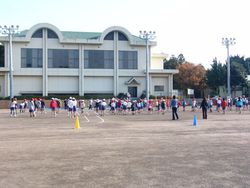 Today it was sunny again in Shimoda.
We had a little bit wind here in Shirahama but it was warm.
By the way, we had Long distance running competition at Shirahama primary school.
This marathon takes place on every December and a lot of parents and local peole come to school to support and cheer them.
This competition started at 9:20 AM…..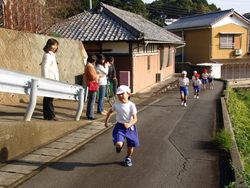 The students on first and second year run together.
I took this picture on the running course.
My son is running.
When all students finished to run my wife and I went to the school.
And the school teacher announced the result and he said,
"…. and the second prize of 1 year boys is Yuuki Yamamoto."
"Really? Did you hear that?"
I asked my wife.
When the students reached the goal we weren't in the school, so we didn't know the result.
My son tried very hard and get the prize.
"Good job, Yuuki!!!"
Pension Sakuraya in Shimoda, Japan